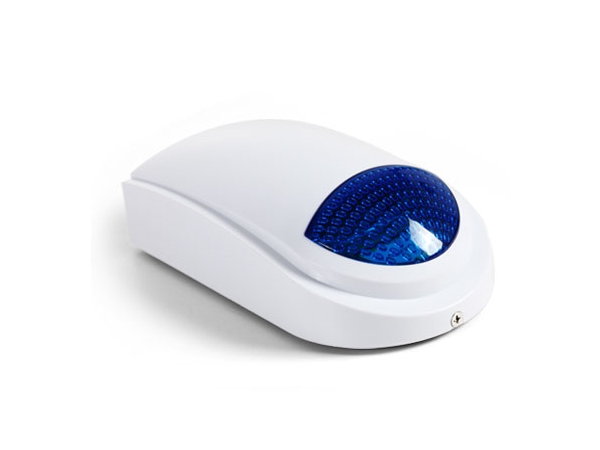 HC-106F-300
Wireless Outdoor Siren, HC-106F-300

This wireless outdoor siren is a cost-effective outdoor sounder, featuring a slim design, waterproof, UV-resistant, anti-corrosive, and low battery consumption.

Features
1. The outdoor siren is designed with built-in power LED warning lamp.
2. IP54 rated electronics
3. The siren is easy for user to install.
4. It is single piezo working.
5. Register by fixed code input
6. Up to 3 year Battery lifetime
7. The siren isavailable with by fixed million encoding working with panel.

Technical Specifications
1. Case: ABS, UV-resistant
2. Color optional (for led flash): Red, Orange, or Blue optional
3. Dimension: 210L * 130W * 65Hmm
4. Rated voltage:12V DC
5. Backup Battery: 7.2V 500mA rechargeable
6. Sounding current:180 mA AT 12V DC
7. Flashing current:120 mA AT 12V DC
8. Sound level: 102 /-3 dB at 1 m
9. Flash: 60 times / MIN
10.Working temperature: -20℃~ 60℃
11.Wireless frequency: 315MHz/433MHz/ 868MHz
12.Voltage range: 9V~15V DC
13.Standby current: <30 mA
14.Sounding duration life: 8 hours
15.Flashing duration life: 24 hours
16.Working humidity: <95%

Longhorn is a major manufacturer of wireless outdoor siren, based in China. We offer various types of products such as wireless outdoor siren, surface mounting door detector, smoke detector and so on. Our products are high quality and competitively priced. Our full chain of manufacturing wireless burglar alarm, passive infrared detector can be completed in China, even in one city. Our lower manufacturing cost can save your purchasing cost. A more detailed description of our product is shown on the page.



Feedback Form
Other Products
Share
Tags
PHOTOS