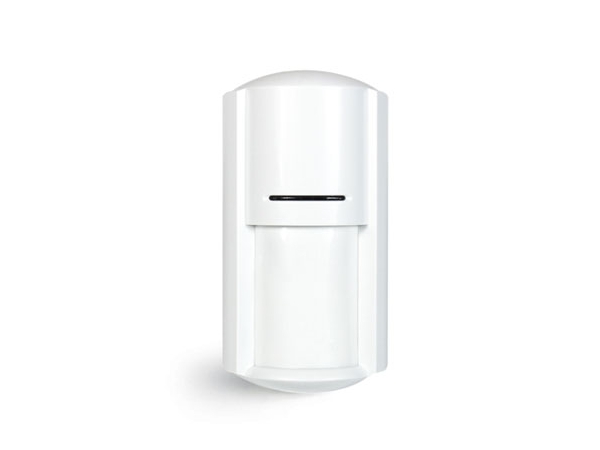 LH-934IC
Outdoor Detector, LH-934IC

This outdoor detector is equipped with waterproof function. As a result, it is suitable for using at outdoor environment.

Features
1. The outdoor detector is designed with the MCU processor.
2. Pulse count option
3. It adopts thespecial optical filter lens with anti-white light intensity more than 10000 Lux.
4. The detector is pet immunity and the weight should below 20kg.
5. With its omnibearing automatic temperature compensation technology, it can avoid false alarm.
6. The detector is designed withmicrowave module applies plane antenna and the microwave detection range is adjustable.
7. It can distinguish intrusion signal and interference signal by using artificial intelligence technology.
8. The detectoradopts Doppler Effect and power analysis technology.

Technical Specifications
1.Operating voltage:9~16V DC
2. Consumed current:≤30mA
3. Detection range:12m×12m
4. Detection angle:110°
5. Infrared sensor:dual low noise pyroelectricity infrared sensor
6. Microwave antenna type:plane formula microwave antenna by GaAs FET dielectric oscillator
7. Microwave frequency:10.525GHz
8. Self-checking time:≤60 s
9. LED indicator:green: infrared triggering; yellow: microwave triggering; red: alarm
10.Installation mode:wall mounted
11.Installation height:optimal 2.2m
12.Working temperature:-10℃~ 50℃ (14℉~122℉)
13.Relay output:N.C./N.O. option, contact rating 28VDC, 80mA
14.Anti-tamper:N.C., no voltage output, contact rating 28VDC, 100mA
15.Size:153mm×80mm×58mm

Longhorn is a China outdoor detector manufacturer and supplier. We offer outdoor detector, and wall mounted detector, photoelectric smoke detector. Our high quality products are offered at competitive prices. Longhorn is located in China, and the full chain of manufacturing fire alarm control panel, wireless burglar alarm can be completed in China, even in one city. Lower manufacturing cost saves your purchasing cost. The more details of each product are shown on the page with description.





Feedback Form
Other Products
Share
Tags
PHOTOS