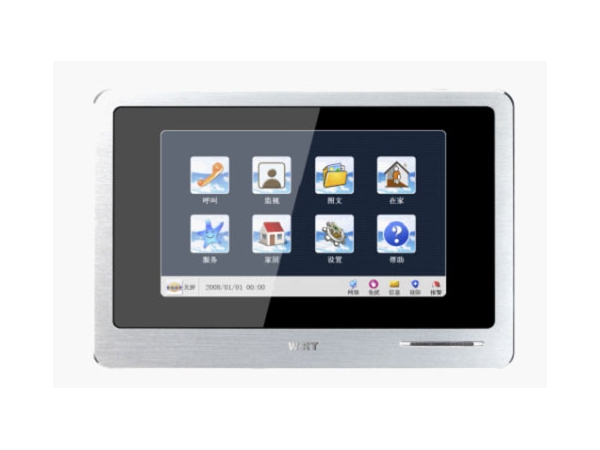 Video Intercom Indoor Monitor, ZZS-801C
Model No.: ZZS-801C
Features
1. It has a 10" TFT-LCD digital touch screen, can monitor entrance and outdoor situations at any time and work with a door camera for a second calling.
2. It offers remote unlocking.
3. The video intercom indoor monitor can directly call and can talk with center unit and send alarm information.
4. It can call any other indoor unit in the LAN system.
5. The video intercom indoor monitor can download chord ring tones and setup mute status.
6. It has a call elevator function.
7. It can be used to take care of a residence while the householder is away.
8. It can control household appliances.
9. The video intercom indoor monitor can support voice, pictures, and message checking function.
10. It can accept service from the center unit.
11. A max 4 indoor units can work together.
12. It can support remote upgrading function.
Technical Specifications for the Video Intercom Monitor
Input voltage: DC18V
Working humidity: 45%-95%
Storage temperature: -15-55℃
Sensitivity: ≤20mV
Distortion: ≤5%
Display pixel: 384000dots
Working current: ≤450mA
Quiescent current: ≤310mA
Output power: ≥50mW
Display time: About 85-180S
Network port: RJ45
Network transmission mode: TCPIP
Dimension: Flush type 255x178x32mm
Wall mount type 330x230x40mm
Bottom case dimension: 322x220x70mm
Transmission range: Router or PBX less than 100m, FOT more than 100m
WRT is an experienced video intercom indoor monitor manufacturer based in China. We provide lighting adjust switch, smart home system central panel, video intercom indoor monitor, and webcam.
Feedback Form
Other Products
Share
Tags
PHOTOS