Laser Cutting Machine (Fiber Laser Cutting), CMA1530C-G-A
CMA1530C-G-A (Fiber Laser Cutting)
CMA1530C-G-A laser cutter machine uses a fiber laser to create powerful laser beams that get the cutting work done. Both stainless steel and carbon steel cut very well on this fiber laser cutting equipment. Compared to a low power CO2 laser cutter, CMA1530C-G-A laser machine gives faster, more precise and electrically efficient cuts.
A moving gantry design makes this laser metal cutting system a real eye-catcher. Driven by two powerful motors, the movement of the gantry is strictly guided by imported linear guide rails. High precision gear racks are also quality imports. The entire metal cutting unit is a representation of laser cutting, precision machining, and motion control technologies.
Features of Laser Cutting Machine
1. Reinforced worktable is of welded construction that has been through such processes as tempering, vibratory stress relief, and milling (with a large-scale gantry mill) to ensure ruggedness and extended life.
2. Each gantry consists of 2 side beams and 1 cross beam. The crossbeam features a modular design which simply means the beam can be taken apart from the rest. The cross beam is constructed of hollow structural sections, made from aviation grade aluminum that has been cold drawn and then precision milled for twice. Inside the hollow section is rebar, which increases the physical strength of the entire structure. In the design phase, a method known as Finite Element Analysis is used to optimize the construction of the crossbeam and to control its overall weight, which further enables rapid response of the beam to sudden changes in gantry moving speed.
3. Wear-resistant gear racks are mounted on the gantry laser machine with the aid of a collimator which ensures transmission parts are in perfect alignment. Accurate motion transmission not only meets customer demands for precision, rigidity, and minimized maintenance in the short-term, but in the long-term too.
4. Customers can specify a particular brand name as well as a specific laser power of your gantry laser cutting system. Whatever you may choose, please rest easy that satisfactory cutting results and minimized operating costs are guaranteed. At the moment, we mainly supply CMA1530C-G-A in 6 power configurations: 200W, 300W, 400W, 500W, 750W, and 1000W. Each power setting tends to a specific cutting need.
Technical Specifications
| | |
| --- | --- |
| Model Code | CMA1530C-G-A |
| Cutting Area (L×W) | 3000mm×1500mm |
| Laser Type | Fiber Laser |
| Laser Power | 500W~1000W |
| Transmission | Moving gantry driven by gear racks |
| Maximum Speed | 60m/min |
| Positioning Accuracy | ±0.15mm |
| Positioning Repeatability | ±0.1mm |
| Drawing Format | PLT,DXF,DSP, AI |
| Working Conditions | 0-45℃, relative humidity≤80%(non-condensing) |
| Total Power | 4.5KW |
| Power Supply | 380V/50Hz |
| Total Weight | 3000Kg |
| Dimensions | 4480mm×2900mm×1740mm |
Laser Cut Materials
Carbon steel, silicon steel, stainless steel, aluminum alloy, titanium alloy, galvanized steel sheets, aluminum-plated steel sheets, copper
Applications for Laser Cutting Machine
Metalworking, aircraft and aerospace, electronics, electrical equipment, metro parts, automobile, machinery, precision machined parts, ships, metallurgy, elevator, home appliances, craftwork, tooling, decoration, advertising, etc.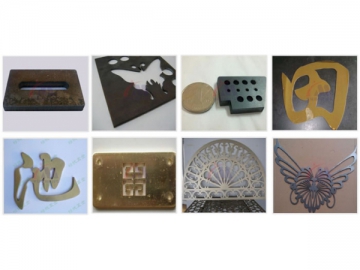 Feedback Form

Other Products
VIDEO

Share
Tags
PHOTOS