FPB ​Series ​Vaneaxial ​Adjustable Pitch Fan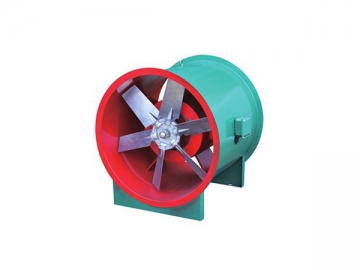 Inquiry
Vaneaxial adjustable pitch fans are extremely durable and can run for long periods of time even when exhausting smoke. They come equipped with a special high temperature motor and an additional motor for the cooling system. Their blades are made of high-quality steel and are processed by dynamic balance correction. They are equipped with an electric control box to support automatic remote control. These vaneaxial adjustable pitch fans feature high temperature resistance, high pressure, balanced flow, and minimal vibration. They can be installed in a variety of different places, including office buildings, hotels, halls, malls, hospital, basements, parking lots, tunnels, etc. This is a workhorse fan that can do it all.
Features
The airfoil blades feature high performance and a beautiful appearance at the same time.
The vaneaxial adjustable pitch fan is processed by an electrostatic spraying process which ensures a surface color that will not fade over time.
The angle of the blades can be adjusted steplessly in a stationary state.
The vaneaxial adjustable pitch fan can be driven directly or indirectly by motor according to your requirements.
This vaneaxial fan can be customized to meet your special requirements.
---
Feedback Form

Other Products
VIDEO

Share
Tags
PHOTOS