T35-11 Series Direct Drive Axial Flow Fan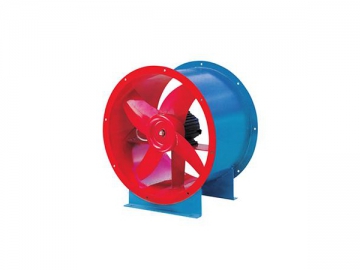 Inquiry
The direct drive axial flow fan is designed for exhausting air in environments where the air is non-corrosive, nonflammable, non-explosive, and with a low dust concentration. It is recommended that the fan be used in conditions where the temperature is not more than 60℃. This axial flow fan is widely applied for ventilation, space heating, and cooling in places, such as factories, warehouses, offices, residential buildings, etc. It can be installed in series within a certain distance of other fans to increase pressure in different parts of the ductwork. Its housing can be dismantled to be used as a free fan.
This series of axial flow fans can be produced with 13 different impeller diameters. The fan has 4 blades with degree options of 15°, 20°, 25°, 30°, and 35°. Its capacity is 826-67892m³/h and pressure is 39Pa-474Pa.
Features
The direct drive axial flow fan has a more reasonable structure: the round fan wheel can reduce the loss of flow, and the root of the blade is extremely strong.
Improved performance. The total pressure efficiency is improved and noise (specific a-weighted sound level) is reduced to 3.6db (A).
---
Specifications
Feedback Form

Other Products
VIDEO

Share
Tags
PHOTOS