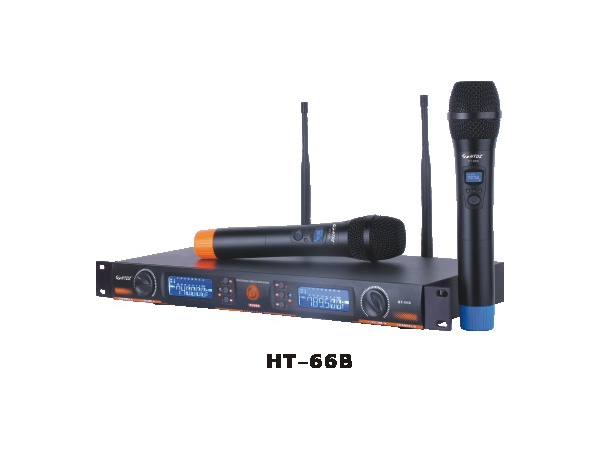 UHF Wireless Microphone System
UHF Wireless Microphone System

Features
1. Our HT-66B UHF wireless microphone system provides a new energy saving mode, automatic EQ control, tone correction and IR frequency sync functions.
2. It uses a high frequency SAW filter to maximally filter out interfering signals.
3. The use of built in audio compression expander circuit greatly improves SNR.
4. The unique audio compressor design effectively eliminates whistle.
5. Frequency synchronization between any receivers and any microphones in the system is realized.

HT-66B UHF Wireless MicrophoneSystem Parameters
Working frequency: 740.000MHz-789.750MHz
Modulation: Broad Band FM
Frequency channel: 200
Switching bandwidth: 250 kHz
Frequency stability: ±0.005%
Dynamic range: 100dB
Max. deviation: ±4kKHz
Audio frequency response: 80Hz-18KHz (±3dB)
Signal noise ratio: > 105dB
THD: <0.5%

HT-66B UHF Wireless Microphone SystemReceiver Parameters
Receiving mode: DPPL
Medium frequency: 110MHz, 107MHz
Antenna connection: BNC/50Ω
Sensitivity: 12dBuV
Sensitivity adjustment range: 12~32dBuv
Noise Rejection: >75dB
Max. output level: 10dBV

HT-66B UHF Wireless Microphone System Transmitter Parameters
Antenna: Built-in
RF Output: <10mW
Noise Rejection: -60dB
Power: 2pcs AA batteries
Battery life: 10 hours in normal power, 12 hours in low power
Transmission range: 100m

Our company is a UHF wireless microphone system manufacturer based in China. We also offer microphone equipment, IR wireless conference system, IR language distribution system, and much more.
Feedback Form

Other Products
VIDEO

Share
Tags
PHOTOS