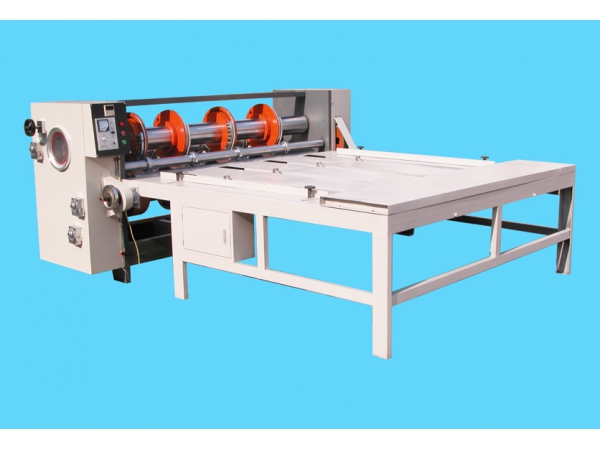 Slotting Die Cutting Machine
Slotting Die Cutting Machine

The FYQ rotary slotting die cutting machine, with the patent number of 2007201006161, is mainly made up of sheet feeding, chamfering and slotting, slitting and creasing parts. As the important equipment applied in the carton production, the machine can complete slitting, slotting, chamfering, punching, handle attaching, die-cutting and molding of cardboard at one time, except for special-shaped cartons and boxes. This slotting die cutting machine is safe to use and helps to improve the quality of cartons and saves much cost for further die-making.

The wallboard of the slotting die cutting machine is made of cast iron and comes with a thickness of 40mm. It is not likely to deform, so as to improve the stability of the whole machine. The drilling process is finished by the high-precision digital borer, with the precision up to 0.01mm for the center distance of holes. Also, the electric counter is adopted to control the exact quantity of cardboards.

All drive gears used in the slotting die cutting machine are made of 45# steel, fabricated by high precision equipment and treated with tooth surface quenching to ensure the gear precision and increase the tooth hardness, thereby prolonging the service life of gears. In addition, the precision and durable planetary gears are adopted for the drive mechanism, and the high quality sensor can realize accurate and reliable phase adjustment. Besides, this slotting die cutting machine adopts spray lubrication for each transmission gear, and also crosshead sliding mechanism to keep the gear meshing gap unchanged during axial gap adjustment.

The slotting die cutting machine adopts imported arc blade and die-cutting blade cushion to ensure the cutting smoothness of blade for chamfering and slotting. Therefore, the cardboard processed by this slotting die cutting machine has no burrs. During work, the bottom shaft of die-cutting blade cushion can freely move in the same level, so the rotary die-cutting operation can realize automatic shift to ensure the cut without dual blade marks and improve the service life of blade cushion.


Technical Parameters of the Slotting Die Cutting Machine
Dia . of blade head (mm)

φ 330

φ 420

φ 530

φ 600

φ 800

Feeding area (mm)

1500x1000

1700x1000

1900x1000

1900x1300

2100x1300

2400x1300

2100x1600

2400x1600

2700x1600

2100x1800

2400x1800

2700x1800

2400x2500

2700x2500

2900x2500

We are a specialized slotting die cutting machine manufacturer in China. Apart from die cutting machine, we also supply corrugated cardboard gluing machine, paper cutting machine, industrial cardboard making machine, and more.
Feedback Form

Other Products
VIDEO

Share
Tags
PHOTOS