W12NC-40×1500 4-Roll Plate Bending Machine
W12NC-40×1500 4-Roll Plate Bending Machine for a customer in Luoyang
This is our W12NC-40×1500 4-roll plate bending machine customized for a customer in Luoyang city of China. It is a CNC hydraulic plate bender designed with 4 rolls. Equipped with special tooling around the rolls, the 4-roll plate roll can bend special shaped plates. Removing the tooling from the rolls, it can bend flat plates.
Features
1. It can pre-bend the end of plate in both sides without having to turn it the other way around.
2. Four rolls are all made of 42CrMo steel. Forging and surface hardening processes provide a high surface hardness of HB240~280, excellent wear resistance and long lifespan.
3. Bearings at two ends of the working roll are anti-friction, ensuring small friction coefficient, reducing reactive power consumption and saving energy.
On-Site Commissioning
Following pictures show the 4 roll plate bending machine is rolling corrugated plates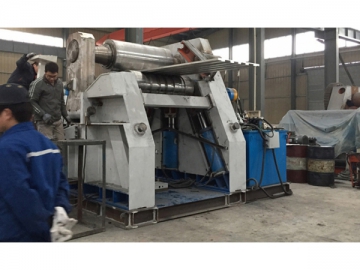 Click the link to know detailed parameters of the 4-roll plate bending machine.
Feedback Form

Other Products
VIDEO

Share
Tags
PHOTOS