Block Making Machine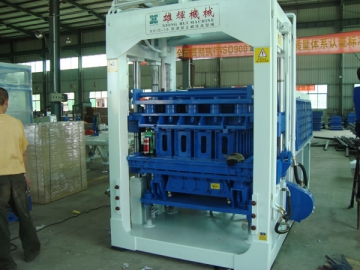 The block making machine is the vital equipment of our fully automatic concrete block production line. The unmanned product adopts the advanced PLC electrical apparatus control system, process control system and automatic diagnosis system.
Performance and Features
1. Manufactured from ultra strong structural steel, the block making machine makes use of special welding technique, which ensures good ruggedness and vibration resistance.
2. The integrated vibration table and fully synchronous vibration mode help to achieve desired jolt ramming effect.
3. Due to the four-bar guiding method and lengthened wear-proof guide bushing, the mould and pressure head of the block making machine are able to work accurately.
4. Its material feeding box employs the guiding operation mode, so as to reduce the load of mould and maximize material feeding effect.
5. The hydraulic system uses hydraulic components from Taiwan, Japan, Germany and other countries or regions.
6. The block shaping machine comes with high productivity and easy operation. It is capable of producing high-compactness blocks that support stacking immediately.
7. The brick machine performs well in energy conservation.
8. With the help of high-duty hydraulic pump, the system works rapidly.
9. The block making machine leaves out the airing procedure that requires manpower and site. Since the charge for pallets is reduced, the cost of each block is cut by about 0.01-0.02 yuan.
Parameters
| | |
| --- | --- |
| Item | Data |
| Dimension | 12800 ×3000×2800 mm |
| Nominal pressure | 21Mpa |
| Vibration type | Table vibration |
| Vibration frequency | 2800~4500 r/min |
| Bamboo pallet size | 1080×850×25 mm |
| Cycle time | 15~25s |
| Total power | 34.5 KW |
| Overall weight | 13800 KG |
X.H Machinery is a professional supplier of concrete block production lines. Welcome to contact us.
Feedback Form

Other Products
VIDEO

Share
Tags
PHOTOS