(0.4-2.0)mm, (0.5-3.0)mm, (0.6-4.0)mm Slitting Line
The slitting line is used to slit thin coiled steel strips into several narrow strips in different sizes. The slit strips are then rewound into coils, which are then used to produce welded pipes, cold formed sections, and presswork.
The lines are composed of high-precision slitters with a quick tooling change for slitters, tensioning device and recoiler. We have three thin coil slitting line models:
(0.4-2.0)mmx1250mm Slitting Line


(0.5-3.0)mmx1300mm Slitting Line
(0.6-4.0)mmx1600mm Slitting Line
Technical Procedures


Coil-loading → Single-mandrel uncoiling → Coil-end-feeding & shoveling → Double-roller pinch feeding/five-roller leveling → End-cutting----Coil Accumulator 1 → Strip-aligning----Disk shearing → Scrap reeling → Coil Accumulator 2 → Pre-separator / Tensioner → Separating, Recoiling → Coil-discharging → Hydraulic control → Electric control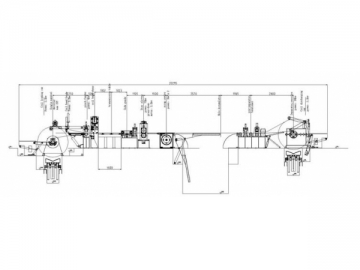 Technical Parameters
| | | | |
| --- | --- | --- | --- |
| Raw Material | Hot/Cold Rolled | HRC, CRC, GI, PPGI | Hot rolled, cold rolled steel. |
| Yield Strength | Max. 460MPa | Max. 235MPa | Max. 460MPa |
| Material Thickness | 0.4~2.0mm | 0.5~3.0mm | 0.6~4.0mm |
| Slitting Width | 500~1250mm | 500~1300mm | 600~1600mm |
| Slitting Strip | Max.20 strips | Max.20 strips | Max.20 strips |
| Line Speed | Max. 100m/min | Max.200m/min | Max.120m/min |
| Coil Weight | 15,000kg | 20,000kg | 25,000kg |
| Min. Slit Width | 40mm | 40mm | 60mm |
| Total Power | 110kW | 180kW | 180kW |
Each production line is strictly designed and made according to customer requirements, so that we are able to provide the best fit for every customer. Please do not hesitate to contact us for more information.
Advantages & Characteristics
Each production line (thin sheet slitting line) is designed and made in strict accordance with customer requirements, guaranteeing that each metal coil slitter is compact, smooth, solid, and easy to operate.
When light steel coil is loaded, traditionally, a single mandrel (cantilever) uncoiler is used in the metal coil slitter. When the coil weight is roughly 25 tons, users need to use a double mandrel uncoiler for the coil slitting machine.
Customers usually need narrow thin strips with a high slitting precision. We pay strict attention to centerline control, precision control of slitting accessories, recoiling precision control and other parameters to ensure the slitting precision, even at thin thickness levels.
When stainless steel, galvanized steel, and colored steel coils are processed, we take numerous measures to protect the sheet surface, including the use of rubber rollers, and smooth transmission plates.
We have a significant advantage in the use of hydraulic system designs and production for thin sheet slitting lines.
We always choose renowned suppliers for hydraulic parts, motors, speed reducers, and electric parts. We also purchase all these parts according to specific customer requirements for the metal coil slitters.
We strictly control each step of the production process, from material purchasing, to welding, machining, hardening & grinding, assembly, all the way to painting. This ensures the final, perfect quality of all metal coil slitters we produce.
We supply the same quality coil slitting machine as our competitors, but at more cost-effective prices due to our outstanding production cost management procedures.
AC motor or DC motor drives are freely chosen by our customers. We typically use a DC motor and Eurotherm 590 DC driver due to the number of advantages, including a stable operation and large torque.
Safe operation is guaranteed thanks to the clear instructions on the thin sheet slitting line, as well as safety devices such as an emergency stop.
Feedback Form

Other Products
VIDEO

Share
Tags
PHOTOS