QDBF ​Centrifugal Fan with External Rotor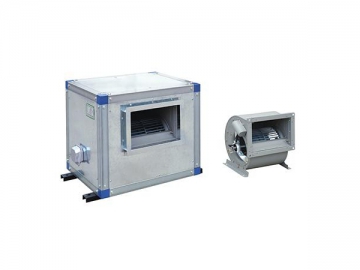 Inquiry
The QDBF series centrifugal fan is designed with an external rotor, double inlet, removable full metal frame, and insulated sound absorbing panels. This air moving equipment is extremely convenient and flexible when it comes to installation. The horizontal type centrifugal fan is designed with a horizontal inlet and outlet while the vertical type centrifugal fan features a horizontal inlet and vertical outlet. This centrifugal fan is suitable for handling air that is non-corrosive, nonflammable, non-explosive, and where dust concentration is no more than 100mg/m3. The fan is able to withstand a working temperature range from -20℃ to 80℃. Widely used for air supply and exhaust for air conditioning systems, the centrifugal fan is often applied in factories, residential buildings, hotels, malls, hospitals, and many other environments.
Features
The centrifugal fan is designed with an external rotor and double inlet. It features a compact structure with powerful ventilation efficiency, high airflow, high pressure, smooth running, and low noise.
Air volume can be adjusted to meet different environmental conditions. This helps you minimize energy consumption when air flow demands are not as high. It can supply air to multiple ductworks with different orientations simultaneously.
This series of centrifugal fan provides 102 different specifications for you to choose from. Its air volume and pressure can be modified by power regulation or power frequency conversion according to your requirements. An electric control box is optional and enables remote control functionality.
Dimensions
---
Specifications
Model
Power(Kw)
Airflow(m3/h)
Pressure(pa)
Static Pressure(pa)
2.0A
0.18-4p
852-1532
227-208
217-176
0.25-4p
1066-2348
251-245
213-182
0.32-4p
1568-3010
266-245
219-145
0.12-6p
931-1759
110-102
92-60
0.18-6p
1350-2501
114-91
94-40
2.25A
0.32-4p
1304-2090
327-320
312-282
0.45-4p
2159-3426
320-301
260-209
0.55-4p
2387-3976
305-245
243-151
0.18-6p
1642-2548
160-147
137-92
0.25-6p
1905-3107
142-110
107-50
2.5A
0.55-4p
1373-2577
449-470
433-427
0.8-4p
2265-4302
455-502
415-380
0.25-6p
1576-2770
220-250
200-198
2.8A
1.1-4p
2463-4598
398-452
367-344
1.5-4p
3504-5866
500-422
438-258
0.37-6p
2363-3863
241-231
213-156
0.55-6p
2925-4450
270-194
226-127
3.0A
1.5-4p
3071-5520
682-750
642-649
0.55-6p
2033-4225
298-336
285-274
3.15A
1.8-4p
3041-5565
744-836
711-741
2.2-4p
4343-6820
820-839
749-699
0.8-6p
2875-5408
359-353
328-265
3.55A
3.0-4p
5673-10032
952-979
915-847
4.0-4p
7424-10913
976-938
852-703
0.8-6p
2803-5620
407-451
388-407
1.5-6p
4002-8633
459-418
418-271
0.55-8p
3301-5646
257-248
230-185
4.0A
1.5-6p
3080-6380
552-605
539-555
1.8-6p
5088-7526
576-656
538-587
2.2-6p
6842-9130
632-665
568-550
1.1-8p
4812-6847
355-374
319-309
4.5A
4.0-6p
8437-13617
805-868
744-708
5.5-6p
11750-18520
841-869
722-539
7.5-6p
13710-21500
867-881
705-483
2.2-8p
9033-13350
462-502
410-309
5.0A
6.0-6p
11441-20500
887-950
822-812
7.5-6p
13845-23433
938-974
841-762
4.0-8p
11883-18349
593-625
494-412
Feedback Form

Other Products
VIDEO

Share
Tags
PHOTOS