Underbalanced Drilling Hose Type: UDG-SZ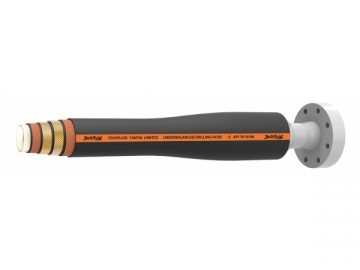 The underbalanced drilling hose is used for fluid delivery in unbalanced oil drilling. The drilling fluid may also contain nitrogen gas, industrial waste gas, air, the mixed gas of air and nitrogen, natural gas and more.
Features:
Temperature Range: Ⅱ level, -25 ~ 100 ℃
API Standard: 7K-ISO 0106
Fire Protection Requirements:
The normal hose structure satisfies standard SR6A standards and is able to maintain up to 5 minutes in a 704℃ fire. The outer cover can be equipped with a fire insulation layer of a glass fiber cloth, which satisfies SR6B advanced fire protection standards, and maintains up to 30 minutes in a 704℃ fire.
Flexibility Level: FSL3
Maximum Length: 70m
Production Length Tolerance: 6.4m or under ± 64 mm, above 6.4m ± 1%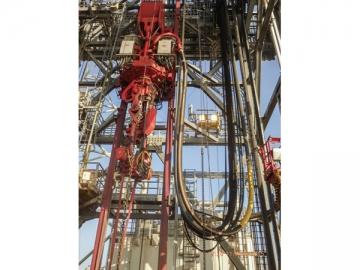 Construction:
Inner Layer: Industrial plastic
Tube: Nitrile rubber or HNBR (hydrogenated butadiene-acrylonitrile rubber) with excellent oil and corrosion resistance, thermal insulation, gas permeation protection
Reinforcement: High strength fabric cloth
Skeleton Layer: High strength steel wire
Cover: Chloroprene rubber, fire resistant, abrasive and oil resistant, ozone resistant, UV protection and anti-aging
UDG-SZ Technical Parameters:
 Code No.
I.D. (inch) (mm) 
O.D. (inch) (mm) 
Working Pressure (bar) (psi) 
Test Pressure (bar) (psi) 
Safety Pressure
MBR (Storage) (m) 
MBR (Operation) (m) 
Weight (Kg/m) 
Max. Length (m) 
UDG-SZ-51×34.5
2
51
4.17
106
345
5,000
690
10,000
2.5
0.8
0.9
10
70
UDG-SZ-64×34.5
2.5
64
4.6
118
345
5,000
690
10,000
2.5
0.9
1.0
16
70
UDG-SZ-64×51.7
2.5
64
5.35
136
517
7,500
1,034
15,000
2.5
1.0
1.2
23
70
UDG-SZ-76×34.5
3
76
5.28
134
345
5,000
690
10,000
2.5
1.0
1.2
18
70
UDG-SZ-76×51.7
3
76
5.98
152
517
7,500
1,034
15,000
2.5
1.1
1.3
32
70
UDG-SZ-89×34.5
3.5
89
5.75
138
345
5,000
690
10,000
2.5
1.2
1.4
22
70
UDG-SZ-89×51.7
3.5
89
6.57
167
517
7,500
1,034
15,000
2.5
1.3
1.5
37
70
UDG-SZ-102×34.5
4
102
6.8
173
345
5,000
690
10,000
2.5
1.3
1.5
35
70
UDG-SZ-102×51.7
4
102
7.08
168
517
7,500
1,034
15,000
2.5
1.4
1.6
41
70
UDG-SZ-127×34.5
5
127
8.11
206
345
5,000
690
10,000
2.5
1.5
1.6
54
70
UDG-SZ-127×51.7
5
127
8.66
220
517
7,500
1,034
15,000
2.5
1.5
1.7
68
70
Feedback Form

Other Products
VIDEO

Share
Tags
PHOTOS